Who is the best Real Madrid striker ever?
Real Madrid's reputation as one of the biggest clubs in the world is no longer in doubt. The club has won numerous trophies and prestigious tournaments. Not only that, Los Galacticos even made a record as a club with the most Champions League trophies. Of course, the superiority of Madrid in the world football cannot be separated from the role of their strikers.
Who are the best strikers in the history of Real Madrid? If you want to know the answers to this question, be sure to read the following article thoroughly. Here, I will present a list of 15 best Real Madrid goalscorers of all time.
15. Davor Suker
Although his career at Real Madrid wasn't too great, Suker recorded a brilliant achievement as the player of the club. He managed to become the top scorer of the World Cup 1998 as well as helping his country, Croatia, claimed third place in the tournament. As Real Madrid player, Suker played 86 times and scored 38 goals. His best career took place in the 1996-1997 season, when he helped Madrid win La Liga and Supercopa de Espana trophy.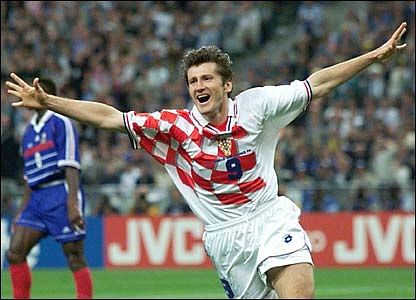 14. Robinho
Madrid fans expected that Robinho could replace Ronaldo's role as a prominent goalscorer for the club. Unfortunately, that expectation did not come true. Robinho did show flashy and interesting playing style at his early career in this club. Unfortunately, his playing style is considered less effective and do not suit the style of European football. This assumption was indeed right, as Robinho was only able to score 25 goals during his three years career as a Real Madrid player.
13. Predrag Mijatovic
Mijatovic was one of the best Yugoslavian national team striker. His goal in the final of the Champions League 1997-1998 season helped Madrid win the competition. During the three years of playing with Real Madrid, Mijatovic scored 29 goals. This record could have been better if he was more given more chance to play. Having felt that he was only the second choice behind the main striker duo, Raul and Fernando Morientes, Mijatovic finally decided to move to Fiorentina in 1999.
12. Gonzalo Higuain
Gonzalo Higuain is probably one of the most successful Argentine players ever to play for Real Madrid. During his career with Los Galacticos, Higuain was often played as a lone striker. His finishing skill is very good, helping him scored a lot of goals. In total, Higuain scored 107 goals from 190 appearances. During his career at Real Madrid, Higuain helped the club win three league titles.
11. Karim Benzema
Although his performance is often heavily criticized, it is an undeniable fact that Benzema is one of the best strikers ever owned by Real Madrid. The Frenchman often scores important goals that saved his club from defeats. During his career at Los Galacticos since 2009, Benzema has scored 111 goals in 235 appearances. He also played great role in presenting a La Liga title for Real Madrid in the 2011-2012 season.
10. Ivan Zamorano
This retired Chilean striker had a chance to experience glorious career with Real Madrid from the year 1992 to 1996. For four years playing for Real Madrid, Zamorano scored 77 goals and played in 137 matches. His best season occurred in the 1994-1995, where Zamorano helped Madrid win La Liga as well as became the top scorer of the competition. Until now, his duet with Marcelo Salas is still regarded as the most deadly duet in Chile national team.
9. Fernando Morientes
Morientes was once known as a very good target man. This player played for Madrid for eight years, from 1997 to 2005. Throughout his career, Morientes scored 72 times from 182 appearances. He was one of the best tandem Raul Gonzalez and this duet helped Madrid win a lot of prestigious title. After his position as a first team player was threatened by the arrival of Michael Owen, Morientes decided to move to Liverpool.
8. Emilio Butragueno
Before the era of Fernando Torres and Raul Gonzalez, Butragueno has established a reputation as a prolific striker of Spanish national team. He is known to be very fast and agile and had a very good scoring instincts. Butragueno played for Real Madrid from 1984 to 1995. He led Real Madrid win six La Liga titles and two Champions League trophies. He also helped the Spanish national team become the runner-up of Euro 1984.
7. Hugo Sanchez
Together with Butragueno, Hugo Sanchez made ​​the front line of Madrid was greatly feared by their opponents. Sanchez who has short stature was able to cooperate with Butragueno to break the opponent's defense many times. Throughout the seven years playing for Real Madrid, Sanchez scored 164 goals in 207 appearances. This Mexican striker also became five times top scorer of La Liga, where he achieved four of them consecutively.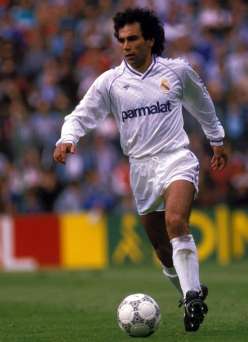 6. Santillana
Santillana or Carlos Alonso Gonzalez is a striker who played for Real Madrid in the 1971-1988 period. Although he is not even 180 centimeters tall, Santillana was known to have good heading skills that often resulted to goals. With his good scoring instincts, Santillana was mostly included in the Madrid's first team. This player also played a major role in helping Real Madrid claim nine La Liga titles and two Champions League trophies.
5. Ronaldo
Luiz Nazario da Lima or Ronaldo is one of the best strikers ever owned by Real Madrid. This bald haired player also experienced periods of glory during his five-year career as a Madrid player. Although most of his times was hampered by injury, Ronaldo managed to score a lot of beautiful goals. In total, he scored 83 goals from 127 appearances. He also managed to lead Los Galacticos become the La Liga champion in the 2002-2003 season.
4. Ferenc Puskas
Puskas is a former Hungarian striker who often regarded as one of the best second strikers in the world. He played for Real Madrid from 1958 to 1966, scored total 156 goals from 180 appearances. Puskas led Madrid win three Champions League titles and five La Liga titles. Not only that, he also became a four-time top scorer in La Liga and helped Hungarian national team to be the runner-up of World Cup 1954.
3. Alfredo Di Stefano
Alfredo Di Stefano is a former striker who has complete skills. He was fast, strong, and possessed great finishing touch. Not only that, Di Stefano also often went down to the midfielder line to pick up the ball. Not surprisingly, Di Stefano became a very important player for Real Madrid in the period of 1953 to 1964. During his career at Real Madrid, Di Stefano scored 216 goals in 284 appearances. He also won eight league titles and five Champions Cup trophies.
2. Cristiano Ronaldo
Actually, Cristiano Ronaldo's true position in Real Madrid is not a pure striker. He is more often positioned as a winger on the left side of the pitch. However, this player scored a lot of goals, even more productive than the pure strikers such as Benzema or Higuain. So far, Ronaldo has made a very impressive record. He scored 252 goals in 246 appearances, won one La Liga title, a Champions League, and three times selected as the winner of the Ballon d'Or awards.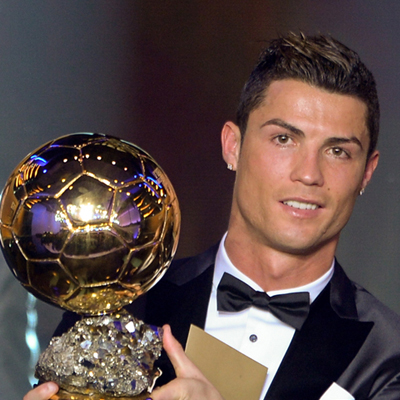 1. Raul
In my personal opinion, Raul, who played for Madrid from 1994 to 2010 is the one who deserved to be called as the club's best striker of all time. Until now, Raul holds the record as top scorer as well as a player with most appearances for Real Madrid. He played 741 times and scored 323 goals. This Spanish striker also helped Los Galacticos claim six La Liga titles and three Champions League trophies. It was very unfortunate that he had to leave the club in 2010-2011 season. I hope someday before he decided to retire, the management of Real Madrid would sign Raul so that he could end his career at this club.