Who is the best African footballer of all time?
Africa is a continent that produces thousands of talented football players. Those great players usually play for big European clubs and they even won numerous prestigious awards. Sometimes, the African players also create surprises in international tournaments such as the World Cup.
The question is, which African player deserves the title as the best of all time? To answer this question, let's just read the following article thoroughly. Here, I want to discuss fifteen greatest footballers from Africa who shine in European League as well as various international competitions.
15. Mustapha Hadji
Mustapha Hadji is a former Moroccan midfielder who played in British Premier League for Coventry City and Aston Villa. During the 19 years of his professional career, Hadji played for Morocco national team 63 times and scored 13 goals. He began to steal the public's attention when he scored a beautiful goal in a match against Norway in the World Cup 1998. In the same year, he was also awarded the title as the Best African footballer.
14. John Obi Mikel
John Obi Mikel is a defensive midfielder who has joined Chelsea since he was young. Until now, this Nigerian player is still one of the most important players in Chelsea's midfield line. Have been playing for Chelsea since 2006, Mikel has won many titles, such as one Champions League trophy, one Premier League titles and four FA Cup trophies. He also won the African Nations Cup trophy with Nigeria national team in 2013.
13. Rabah Madjer
I believe there are many young football fans who don't recognize the name of Rabah Madjer. The Algerian ex-footballer played from 1975 to 1992. The most brilliant career path of Rabah Madjer was when he played for FC Porto, where Madjer won three Portuguese League titles and one Champions League trophy. Madjer was also selected as the best Algerian footballer in the 20th century. Currently, he works as an analyst at Al Jazeera Sport TV Station.
12. Patrick Mboma
Patrick Mboma is a senior of Samuel Eto'o in Cameroon national team. He was known as a tall, powerful, and agile center forward. Mboma spent most of his career in France and Italy, playing for various lower-middle clubs such as Cagliari, Parma, PSG, and Metz. This player helped Cameroon national to be the champion of African Nations Cup in 2000 and 2002. Throughout his career, Mboma played 261 times and scored 109 goals.
11. Kalusha Bwalya
Kalusha Bwalya is a legendary player of Zambia national team. He played for his country for 21 years, from 1983 to 2004. Considering this fact, it is not surprising to know that Kalusha Zambia is a player with the highest number of appearances and the most goals of all time in Zambia national team. He played 143 times and scored 100 goals for his country. Bwalya is known as a player who did not have an exact position and he always left free to explore the field. His unique playing style makes Bwalya many times created surprise to the opposing team with unpredictable attacking pattern and off-the-ball movement.
10. Michael Essien
Essien is Ghana's one of the most important players who led the team reach the quarterfinals stage in the World Cup 2010. During nine years of playing for Chelsea, Essien also had a pretty good career. He helped his club win Premier League twice and he also won one Champions League trophy in the season 2011-2012. Essien has tough playing style. He is mostly positioned as an anchor midfielder whose main duty is to destroy the opposing team's attacking flows.
9. Yaya Toure
Not only for his country, Yaya Toure is even considered one of the best players of Manchester City. The central midfielder has a very vital role in helping City win the Premier League in the 2011-12 season. Toure was also three times in a row selected as the best player of Africa, from the year 2011 to 2013. One of Toure's greatest skill is the ability to defend and attack equally well. He can act as a pivot of the team's defense and if necessary he would also help the team's attack and even scoring goals.
8. Didier Drogba
Drogba is a very powerful attacker. The Ivory Coast striker is even touted as one of the best foreign players of all time in the British Premier League. During eight years playing for Chelsea, Drogba capped 226 times and scored 100 goals as well as winning various prestigious titles. With a record of 62 goals in 98 appearances, Drogba is currently listed as the all-time top scorer of the Ivory Coast national team.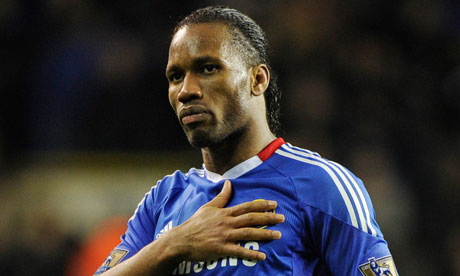 7. Jay-Jay Okocha
Okocha is a former Nigerian midfielder who had a very entertaining playing style. He possessed high skills in the dribbling and juggling the ball. Okocha was also often scored great goals from long distance. This player was part of the Nigerian national team that won the African Cup in 1994 and the Olympic 1995. Throughout his career, Okocha played 454 times and scored 87 goals.
6. Samuel Kuffour
Samuel Kuffour is the only defender in the list of 15 best African footballers of all time. The best period of Kuffour's career occurred in the year 1993 to 2005 when he played for Bayern Munich. At the club, Kuffour won six Bundesliga titles and one Champions League trophy. Kuffour was also one of the footballers who was nominated for the Ballon d'Or award in 2001.
5. Nwankwo Kanu
Nwankwo Kanu underwent glorious career perioed when he played for Arsenal. At Arsenal, this Nigerian striker was given a role as super-sub, a substitute player who often saved his team from defeats. Before joining Arsenal, Kanu played for Ajax Amsterdam, where he won three Eredivisie titles and one Champions League trophy. Kanu played 86 times for the Nigerian national team and scored 13 goals.
4. Roger Milla
Roger Milla is often regarded as one of the best second strikers in the world. The Cameroon striker appeared in two World Cups, in 1990 and 1994. In the World Cup 1990. Milla made ​​a surprise by leading his team advance to the quarterfinal round. In the World Cup 1994, Milla made a new record as the oldest player ever to score in the history of World Cup, at the age of 42 years. Throughout his career, Milla scored 405 goals in 712 appearances.
3. Samuel Eto'o
Samuel Eto'o is one of the greatest African strikers ever. This player won many prestigious titles whenhe played for Barcelona. He was one of the most dangerous forwards in La Liga, playing with the full support from Ronaldinho and Lionel Messi. At Barcelona, Eto'o won three La Liga titles and two Champions League trophies. His prowess continued when he was transferred to Inter Milan. At Inter Milan, Eto'o claimed one Serie A title, one Champions League trophy and one FIFA Club World Cup trophy.
2. Abedi Pele
Abedi Ayew or more familiarly called as Abedi Pele is a legendary Ghanaian attacking midfielder. His golden times as a footballer occurred between 1988 and 1993 when he played for Marseille and Lille FC in the French league. In that period, he won three French league titles and one Champions League trophy. Throughout his career, Abedi Pele played 479 times and scored 157 goals.
1. George Weah
I believe many people would agree to give the title of the best African footballer of all time to George Weah. This is because the Liberian striker is the only African player ever to win the Ballon d'Or award. Weah won two Serie A titles with AC Milan and a Ligue 1 title with Paris Saint-Germain. His talent was greatly praised, and many people think that Weah is the best African player ever in Serie A. After his retirement, Weah works as a politician in his country.